Zusammenfassung:
knapp 34 Tage
24 Stunden Motor
Wind generell unbeständig und etwas wenig
Welle war bis max 3,5m und kurz - wo ist die lange Pazifikwelle?
Spinnaker nur an 2-3 Tagen
Delphine, Pilotwale, fliegende Fische und ein paar Vögel - sonst nix
1 Fisch gefangen
Wir waren froh endlich angekommen zu sein!
Fatu Hiva als erster Stop ist toll - grandiose Szenerie
Tahuata - Singen erster Klasse!
Summary:
nearly 34 days at sea
24h motoring
the wind could have been stronger and more persistent
the waves were short and not higher than 3,5m
Not much life was around, we did not like the flying fish (stinky if not found immediately)
We caught a Bonito in the last days
We made (illegal) landfall at FATU-HIVA and liked it very much (except the gusts!!)
Tahuata was another highlight (they sing amazingly)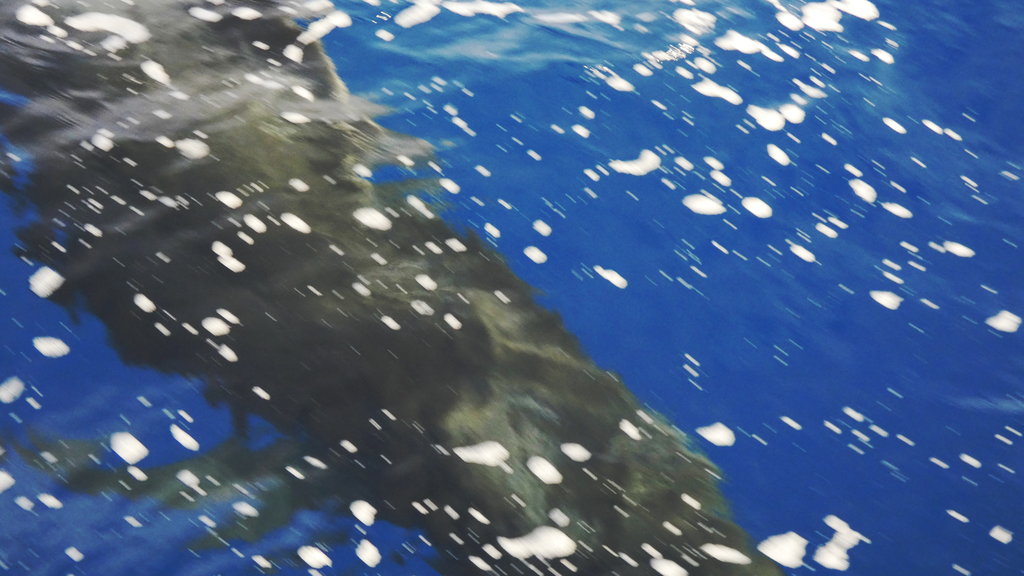 Blauwassersegeln mit Delfin

Der untenstehende Text als Tagebuch und anschließend die Infrastrukturinfos ist nur in englisch. Eine Zusammenfassung findet ihr hier als deutsches Videointerview:


Below the text (Logbook aswell island-infos) is all in english (the link above is for a german video-interview):


Our first idea was leaving Ecuador in September - I wanted to spend my birthday on sea and celebrate Dagmar's in the Marquesas - however it was just an idea ...

Taking on provisions for more than half a year (most likely two) is not too much fun, but doable, the only very hard thing is to find a home for the whole stuff in the boat (and find the best due dates ...).

We intended to leave Ecuador shortly after having checked out of the country. Dagmar was mentally prepared to spend her birthday on sea, but on that day we had a nice surprise gathering party on TAITONGA with ALRISHA and GOBLIN. Dagmar was not too happy at the beginning, because we were (like always) working hard to get the boat ready - but she enjoyed it very much - we had a fun evening.

Actually I did not really care of the exact day for our leaving - we are fortunately not in a race and everything on a boat simply needs much more attention and time compared to land based living and travelling. We finally left 9 days after check-out (extremely fast compared to Panama ...:-)


Sunday, 22.10.2018 "Start" - (Christian)
Highwater at 14:00 with 2,4m => we started 13:00 and were shown off nicely by ALRISHA and PARPAR with some Horns (our Horn decided to burn its fuse after 4 seconds ...) GOBLIN was waiting for us at the beach, were we did not see them, because I was simply too busy checking our course and depth soundings - we decided even after 6 month to skip the pilot and follow our track in. It took us 45 minutes to the "waiting-area" in front of Bahia, where now a yellow buoy with a lying cross found its home. Maximum speed was 4 knots against the incoming current and 15-20kn wind on the nose with a clean hull.
The track took us very near the shoreline, it felt like some people were standing in the water 50 m far of us in the surf. The minimum depth seen was 1,8m (+60cm hull-depth). After washing the deck with some 1-1,5m waves we discovered that our front hatch was not waterproof any more - quick to fix, but the mattresses got a bit salt-water ...
Some dolphins escorted us towards the deeper water (still too busy to make fotos (Dagmar did one!)).

I skipped the offer to get a ride ashore for a shower before we left, because I was sure to go into the saltwater soon - bad decision: My plan of washing the deck and checking/cleaning the hull in the waiting aera was idiotic - the short 1-1,5m waves clearly indicated not to go into the water.

We proceeded directly in the direction of Galapagos and had to sort us and the boat out. Not everything was completely prepared, which now took its toll in having not a fun time.
Dagmar as usual was coping better with the conditions than me. I am prepared for 2 days of feeling bad or worse - Let's see how the anti-sea-sickness-pills are working.

I hate to leave in the afternoon, because the night will settle in very quickly and the last sail was half a year back. We have to get used to it, again.

Quick 5+ knots boat-speed at the beginning with westerly winds we decided to head towards Galapagos and wait for more southerly winds. It could be. that we do not do many jibes ...

Our plan is to stay between 01 and 05 degrees south to participate in the favourable currents, but we will see - first we have to cross some currents bringing us north before we reach Galapagos, which we intend to pass as far away as possible.

I realized that I did send the mail to the Taitonga-Family and Friends a bit too late - We were surprised to get so many mails with good wishes back in such a short time: Thank you very much! It feels very good! We will carry these and those still unread in our postbox over the ocean. (Next time I will send an email like that earlier!)


Monday, 23.10.2018, 16:00 local time, "Day 2" - (Christian)
At night we had company - some dolphins were trying to spot me in the cockpit - it is very nice and they make me happy, but at first it is very weird to hear some unusual splashes and breathing-noises in the complete dark, and the see the glittering black shine fin surfing through the waves ...
Some seagulls are making noises too.

It is grey in grey, around 10 knots, the waves died down from 1,5 to 1m - nice sailing conditions, but we do only 3,5knots => this can turn into a very long journey ...

I heard the outboard, before I saw him. At noon we got company from an open fisher-boat - ca 65nm offshore who asked us to change course to stay clear from their nets - totally weirdos, if you think of 2-3m waves, ugly wind and a 8m boat without a roof => the fish prices should be much higher as a reward. Anyway, I believe that their sons (never have seen a lady doing this job!) will most likely not be able to follow the trade of their father, because overfishing the oceans - there is a lot fishing going on in the pacific and e.g. the town Manta is very dependent on Tuna -they host a big fleet there.
We have our Radar running every 12 minutes to see if there are obstacles in our course, yesterday night we had a lot of fishing-boats around us, barely visible and not good lit - none was picked up from the radar! Our fisherman disappeared after ca. 400m in the waves which were only 1m high (that is much below average)!

The boat is close-hauled to the wind so it heels over a bit which makes life onboard a bit harder, e.g. getting the pants on means to sit first and cooking means to be ready for a mess...

The windpilot is working fine - the adjustment did not take more than 5 minutes => very cool! (sometimes it took me 60min+ ..)
If we get less wind it will have problems and we might have to switch to the electric one.
Our energy-balance is despite the missing sun still ok.
I feel better today, Dagmar not as good. We had a normal meal again ("Falscher Hase" translates directly to false rabbit => a german mince-pie, very delicious but consumes a lot of gas) - nice change to the Tostados (Zwieback) which we normally eat when we do not feel too well.

I had my shower on the bathing-platform today => feels great to be clean again, but it was freezing!!! It is cold anyway - we are just below the equator and have to wear long underwear, fleece-pants, fleece-jackets and windbreakers (actually the same like going skiing!) - at night we use additional blankets.

We are settling into our watch-system and into boatlife again.
After dark I will go and try to sleep and then have the midnight to morning shift.

Ferry from ALRISHA will acompany us via SSB-Radio, until we are out of reach, which let us feel good and not too lonely - we are looking forward to speak to him at 18:00 - Thank you very much!!!

The entertainment program today was just delivered by a 1m Mahi Mahi jumping a couple of times out of the water, 7m from the boat (wrong direction!).
One of the best fish to eat - but we will start fishing only in a couple of days, after we are more settled in - then he is very welcome onboard!


Tuesday, 23.10.2018, 04:00 "Day 3" - (Christian)
Only 8kn of wind - our windpilot neither the electric autopilot, nor Dagmar was happy, so we started the motor. Our boatspeed went up from less 2kn to 4,5kn at 2000rpm, which was below the average speed we can make with a clean hull = 6,0kn.
We checked the speed doing 90 deg turns and with the current we got 6,1kn => current = 0,8kn, but still not optimal boatspeed => ca. 10% are missing.
Maybe I dive the boat at daylight to check Ariostos cleaning in the middle of the ocean?

Motoring sucks, the weatherforecast has weak winds the whole week!
We have ca. 550liter diesel onboard at 1800 rpm this means that we can motor ca. 200h=8 days...


Wednesday, 24.10.2018, 16:00 local "Day 3" - (Christian)
We have 3 seagulls permanently sitting on our reling - I do not like shitting animals on deck, but respect them if they stay in the front.
Not much else going on.


Friday, 26.10.2018, 17:00 local "Day 6" - (Christian)
Nice sailing conditions around 10-12 knots close hauled to 90deg to the wind 5 knots average, sometimes more than 6 knots SOG.
5 knots average would bring us in 30 days to Marquesas, 6 knots in 25 days - still we hope 35 or less.

The first day with sun!!!! What a joy! And we had sometimes the moon at night aswell.

We lost our 3 shitting bird-passengers! Hurrah!
One vessel a night spotted - the first since 2 days - not much going on here

Downloaded a weatherforecast via Iridium 9555:
It took 9minutes to send a mail (with 1 line =2kb) and receive a mail (with 20 lines and a 3kb-grib attachment=7kb). A minute costs around 1,50USD.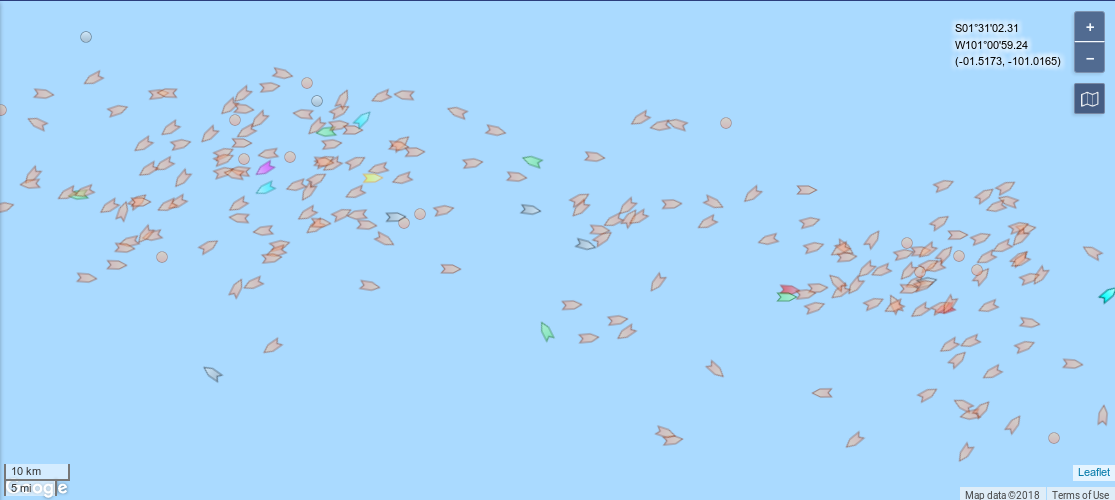 This situation we wanted to avoid and did, thanks to our course and guidance through SV Alrisha: Fishingfleet in a diameter of 90nm at 1.5S 99-100W. Source: Marine-Traffic.com on 2018-08-06 (I guided Breakaway at that date). The purple vessel is a sailingboat, the orange ones are fishingboats


Saturday. 27.10.2018, 16:30 UTC => local 10:20 "Day 7" - (Christian)
Location: 03*24' South, 089*38'West; course 250*, 5knots; wind 12knots SSE; 1m waves
I am surprised: I think I got some sleep even in the first night, sure on the second - that is incredibly -We got used to the conditions 3 days after we left, but still today (light-grey again) I am not used to the shifts - it is hard for me in the mornings to go to sleep again - normally I only have a lay-down.

Until now nice sailing conditions except the first 24h.
12h of motoring and a couple of minor breakages, but lots to take care about and to check, e.g. the line to the horn of the main-sheet is chafing and want to get a protection, today.
No more than 1,5m waves - bearable.

I installed a barber-hauler yesterday for the genoa, which helps to keep the sail more open, I really would love to have the roller for the genoasheet adjustable from the cockpit.

Thank you very much Ferry on ALRISHA, keeping contact via SSB with us from Bahia and feeding us with weather and news!
We started with 4a for the first 150-200nm, which work better on 6b, went to 6b for 150-500nm distance and are now on 8b for the next time.
The SSB works much better than expected.

Dagmars is cocking today loin asian style.
We might start fishing next week.

Because we left some days after the planned date we "suffer" from provisions that now are ripe or overripe or sluggish masses ...


Tuesday, 30.10.2018, 21:00 UTC "Day 10" - (Christian)
I am totally confused and I have sort of an jet-lag:
23:47 UTC (Universal Time Coordinated = London) means:
16:47 local time for our boat-position
18:47 Bahia, Ecuador time
00:47 Germany Winter Time
14:47 French Polynesia Gambiers
14:17 French Polynesia Marquesas (they have a half of a time-zone!)
13:47 French Polynesia Tahiti

Sunset is about 17:20 => hard to tell because we do not have had a proper sunset since Panama with a red-golden ball slowly melting into the water at the far away horizon.

So we more or less take sunset and sunrise as our anchors for our daily routine.
(=> This will get more confusing when we will get near the dateline 180, because some countrys where locally it is supposed to be UTC+ 11 do have UTC -13 ...)

This grey to grey weather sucks!


Friday, 02.11.2018, 12:00 UTC "Day 13" - (Christian)
This night was not fun!
We (mainly Dagmar had in the first half less the perfect conditions: 10knots S to 23knots SE - gusts that feels like sustained wind and after20-30 minutes you are left with some waves and half the wind: This means: reefing in / reefing out, checking the dark clouds against the dark sky (which is more than guessed) and adjusting the windpilot, which is with a course of 120 deg to the wind and 10 knots an issue ...
I was glad that Dagmar offered to take over before sunrise => I normally want her to have around 5-6 hours sleep (which can be an issue with flapping sails ...)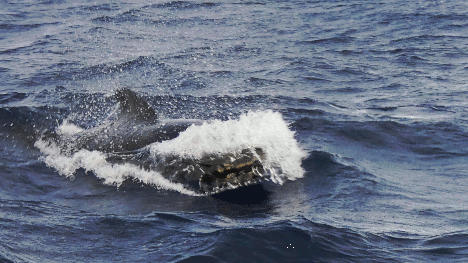 Blauwassersegeln mit Delfin

Friday, 02.11.2018, 22:00 UTC "Day 13" - (Christian)
Today Dagmar's Mum and Dad had their 50th wedding-anniversary - we phoned them to send our congratulations - it is nice to have a possibility to reach people via Satellite - only the broadband for data (as well the prices) should be improved...

It is hard, because our travelling, we miss some important events.

Our AIS-Signal is caught by some satellites and we are shown with a little delay on the map of marinetraffice - I guess we are the only pleasure-boat on the way to the Marquesas this time of year.

To be so late means maybe having less wind? SY Breakaway was blown over to the Marquesas with 20-25 knots+ a couple of months ago - we do have 10-15 ...
Until now the waves are OK: 1-2m with decent time in between.
We have not reached half way now.


Saturday, 03.11.2018, 19:00 UTC "Day 14" - (Christian)
This night was the coldest in the last years ...
Long underwear, jogging trousers, watertight trousers, T-Shirt, Long-sleeves shirt, Fleece, Windbreaker, 2 blankets => even on the Baltic Sea I had more fun and warmer nights ...

The last nights were not fun anyway: 30deg wind-shifts and sometimes 8kn, sometimes 16 knots => much work to get the windpilot working.
This night was the coldest until now.


Sunday, 04.11.2018, 00:00 UTC "Day 15 - in the mast and water" - (Christian)
I had to replace the port-lazybagline which simply parted - unfortunately I had to climb the mast in 1m waves 10m up ... - not much fun, but doable.
To make the day even more unpleasant I checked the hull, because I had the feeling that we do not do the speed, we could do.
Thousands of gooseneck-barnacles looked at me - like a forest of little hungry animals, craning their neck towards everything which might be edible. I suppose the hull was perfectly clean after
Ariosto in Bahia de Caraquez (he did a good job!!!) cleaned the hull 48h before we left and the antifouling was simply gone ...
Unfortunately our propeller-anode was gone (which Ariosto attached in the murky waters of Bahia)

We hoved too, drifted with around 1,2-1,7kn and it took 60 minutes work to clean only the portside of the hull.
We towed a line with a fender behind the boat which would be my last chance to grip something attached to the boat. The boat was lined with lines where I had a chance to hold on between my dives. Some jellyfish passed by, I was nearly covered everywhere with neoprene -got a hit at the lower lip though. One special jellyfish was passing within a second - I haven't seen something like that before: Big and flat like a plate or a doughnut with blue arms to the sides, like a giant cleaning pad for the angle-grinder or a strange frisbee.


Monday, 05.11.2018, 23:00 UTC "Day 16 - diving" - (Christian)
Another dive-day: 1 hour for the starboard (right-hand) side of the hull. The current was extremely hard to fight. I took a raincheck on the lower section as well attaching a new anode - simply too dangerous.
The water-quality and the visibility was outstanding, nevertheless I was not able to spot the ground = ca. >4000m down.

It was weird to clean the hull - it reminded me of some western movies were the cook bangs on some metal to signal lunch is ready, but in my context Taitonga was the metal and I would be the possible lunch! I am part of the food-chain, which means: outside the water I am on top of the food-chain - in the water I am far below the top ...

We tried the Blister / asymmetrical spinnaker and it was nice to do a descent speed, but we took it down for the night were we did around 5kn with main (1 reef) and Genoa.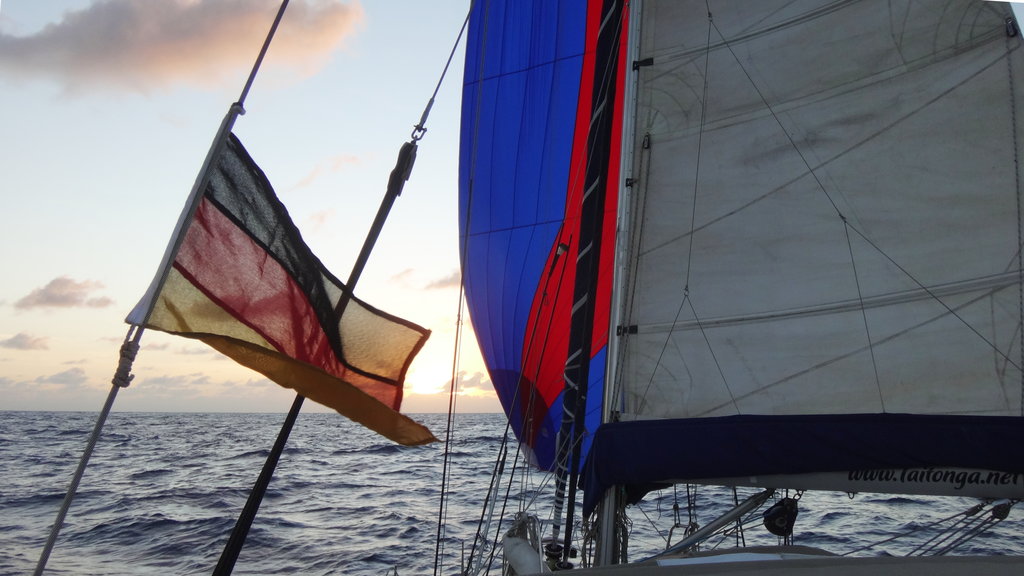 nach Westen

Tuesday, 06.11.2018, 21:00 UTC "Day 17 - 06*08'S/106*35'W" - (Christian)
Sunny, which is a delight after two more greyish days, still the batteries are not full - had to run the motor and made some water. Nothing big going on. I think I will do some repairs tomorrow.
We are a bit too far S for the main current, which would give us a push of 0,6-0,7kn, but going more than 130* to the wind is very uncomfortably with 1,5-2,0m waves bouncing us around in 12-14kn SE-SSE.

I am totally tired - ca. 1,5h to sunset - my watch will last until then.
We have not made half of the distance (like a bird flies) to the Marquesas - we might need another 15-20 days? Until now the wind was less than expected.

Fuckin' cold!


Friday, 09.11.2018, 22:00 UTC "Day 20" - (Christian)
Today my godmother has her 90th birthday!!! - we phoned her to send our congratulations, but I would have preferred to hug her ...


Sunday, 11.11.2018, 06:00 UTC "Day 22" - (Christian)
Nice night with no moon (still only days after new-moon) and lots of stars - the southern cross is visible when I sit in the cockpit.


Monday, 12.11.2018, 23:00 UTC "Day 23" - (Christian)
ESE 13-14, stable conditions waves up to 2m in the last 36 hours AND sun! That's how good as it gets! The nights get warmer - I "only" need one blanket any more.
I phoned my mum today and found out she needs some support - not easy to give it from the distance - one of the disadvantages of not being around...
My godmothers birthday-party seemed to have be a great event - we could not attend - one of the disadvantages of not being around...
It is quite sad, we missed this year 2 80ths birthdays and a golden wedding as well...

The weather-forecast from Ferry announced 19 kn, with gusts 26kn for tonight - until now shorterm-forecast was very good from "Wetterwelt".
Maybe 20 minutes to sunset - the wind already picks up. Mostly around sunset / sunrise we had a change in windspeed and direction.
We might try reef 3 in the main for the night. Our main is quite big and gives a big tendency to windward - Our Windpilot steers very well, if the boat is neutral trimmed. Maybe we take the main down completely and go more on a leeward course? Or we decided and make our manoeuvre around might-night at the change of the watch...

We do not the speed we should do with this wind and course - I suppose our hull is badly fouled with the gooseneck-barnacles and that slows us down around 0.7 to 1kn. I am not very keen of cleaning the hull again offshore - but we still have more than 1000nm to go ...


Tuesday, 13.11.2018, 18:00 UTC (local time 10:00) "Day 24" - (Christian)
119 W / 07 S, wind 270* 19kn, Genoa with 140* to the wind, 5+ knots.
Dagmar baked some bread and Madeleines yesterday - jummy!!! (Sadly I did not realized this during my night-shift ...).
The night-shift was pleasant - enough wind to do 5+ knots and calm "enough" with the waves which got bigger towards 3m - they are bouncing us around a bit, so sleeping is an issue.

Dagmar is doing water today, we are still getting 8 Ampere trough the solars, despite it is 3/8 cloudy with Cumulus.

We have more than 1000nm nothing around us - some unbelievable stupid flying fish managed to fly and land in our cockpit (mostly on my blanket!!!) - I smell them first before I see them at night => They are messy!


Wednesday, 14.11.2018, 10:00 UTC (local 02:00) "Day 25" - (Christian)
O 19-24kn, Waves 2,5-3m from behind, but uncomfortable, dark and a little rain, no stars,
Hope the night will be over soon.
Genoa 1 reef. A flying fish in the cockpit
Kotoshimaro a japanese fisher passed 5nm from us - no contact.
Some journey journals described their trip as splendid with stable trade-winds and a very long gentle swell with following seas. Our wind is not stable and the waves are short, steep and uncomfortable!
Dagmar had the first wave jumping into the cockpit on this trip - but just a bit - she hates it just now...

A lonely star falling from the sky (the first one since Panama).
It is getting warmer! One blanket (+winter-stuff) is (more or less) ok(ish) now.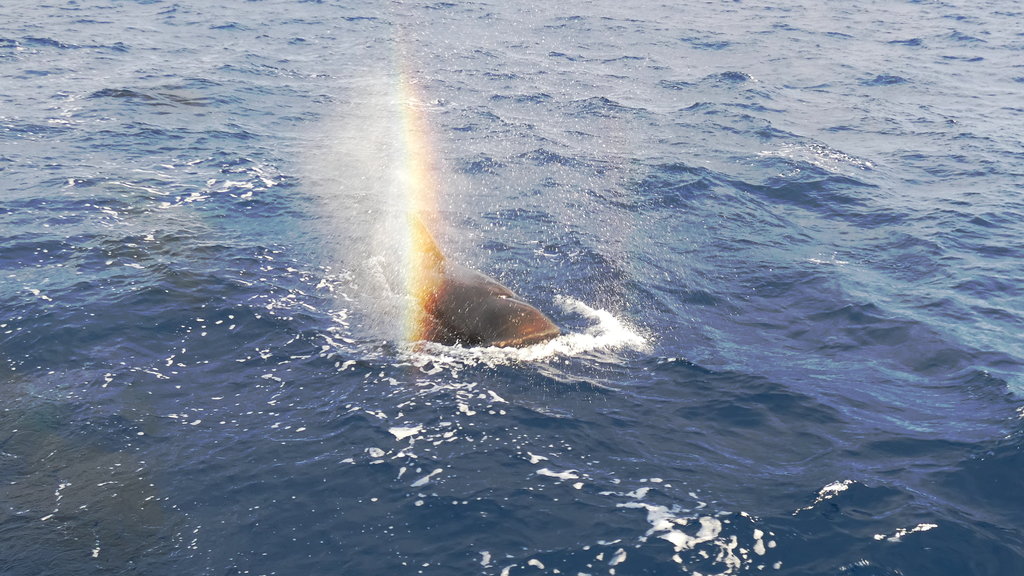 Blauwassersegeln mit Delfin

Thursday, 15.11.2018, 10:00 UTC (local 02:00) "Day 26" - (Christian)
I was not in the mood to write in the last days - I just wanted it to be done and arrive in Fatu Hiva. We decided for Fatu Hiva and to be illegal for a couple of days, because I have to attach the propellor-anode and clean the hull and set-up the dinghy. These are things I do not want to do in Atuona, which is reported to be a murky bad water situation.


Friday, 16.11.2018, 10:00 UTC (local 02:00) "Day 27" - (Christian)
Our last melon was slaughtered.


Saturday, 17.11.2018, 10:00 UTC (local 02:00) "Day 28" - (Christian)
It gets warmer - I do not need ski-garments any more at night.


Saturday, 24.11.2018, 10:00 UTC (local 02:00) "Day 34" - (Christian)
What a treat: Green colours with vegetation around us!
A "sheltered" bay. We anchored on 10m at high tide with 55m chain in the water (our neighbour has 70m out an is here since a month after crossing from Galapagos in 23 days and having 2 weeks in Hiva Oa). There is not much space here, but we tend to give some more chain out...

Benoit from Marissa said Hello and brought some bananas and a Pampelmousse - very nice!!! We know him from Panama, where he beached his Feeling on the same beach we did. It is weird, because we communicate in spanish (his favourite, despite he is french, but his wife Bertha is spanish-speaking), french and english - it works fine :-)

What a treat: We do not have to use our passage bed with the lee-sail (a piece of fabric that prevents us of falling out of the bed when the boat heels over) any more (tight as a coffin) - we can use our normal bed again - space !!!!

Being here in this bay for a couple of hours brought some interesting views and weather: Within 20 minutes, we had no wind to gusts with 30 knots; sun, clouds, rain - nice warm here.
The church-bell sounded and some music meanders over the water - they might have a service on Saturday, 17:00 local?


Tuesday, 27.11.2018, 17:00 local ! "Day 34" - (Christian)
The gusts at night are very uncomfortable, but we get used to it (a bit). The wind indeed howls through the mosquito-nets like a turbo charging for 150 miles an hour ...
The anchor is holding fine!

We were quite exhausted! The first day we only did the must do's and Monday we went ashore the first time and got some fruits from Taua (Christian), who visited us the first day and wanted to trade some items. Now we have plenty of Banana and Pampelmousse (quite nice and big as a soccer ball).

The first check under water brought what I expected: Tons of gooseneck-barnacles, but the propeller looks ok.

I wanted to dive the boat but until now, we were either busy or not very attracted to do so ...

We will be here maybe another day or two and then sail to Tahuata for 1 or 2 nights, and then check-in in Atuona (the harbour which is maybe the worst, because it is open to the wrong side ...).
The plan is to visit the officials, check the stores and the haul-out and then get out of there as quickly as possible.

The anchorages in the Marquesas are not very big, neither good sheltered.
We have to make up our mind what we want to do next from there!
Maybe going to
the US first and maybe visit SF and some friends in Miami? (Winter??)
Germany in February for 2 month?
Germany in February for 4 month (do some work) and avoid the crowd which is coming around April/June?
Easterisland by plane and then Chile and then Argentina and then Germany? (I do not think so)

I think we need a break from boat-life, but it should not be too long otherwise we might never go further?!

Let's be realistic: Tomorrow I will clean the hull! (at least a part of it!)


Saturday, 01.12.2018, 08.00 "a miracle?" - (Christian)
Surprise, surprise, ca.90% of the gooseneck--barnacles vanished => that made my job easier and I wonder where they went and why ... => maybe they do not like 0kn speeds? If so maybe heave-too on the ocean for a day would increase the crossing speed???

Marissa and Planet Ocean left, Mars and Juvial are still in the anchorage.

We got used to the gusts (still uncomfortable) and since two days there is a little swell coming into the anchorage - Dagmar deployed the rocker-stopper, which made a little difference.

Yesterday was grey in grey, with a lot of rain: Our bimini leaks badly - I did not do much other than reading wikipedia...
Tomorrow we plan to sail to Tahuata, stay there 1-2 nights and then check in into Atuona ...


Sunday, 02.12.2018, 08.00 "rain" - (Christian)
Still here! Unfortunately we missed the church due some nasty winds and rain => we have to do some rain-protection-improvement - our bimini is more like a net ...


Monday, 03.12.2018, 18.00 "TAHUATA-Hanatefau" - (Christian)
We left after some rain (actually too late!) at 07:00 and expected to have a nice sail to Tahuata and doing with the cleaned hull 4,5kn average ...
After leaving Fatu-Hiva we experienced within 2nm of the islands alternating winds between 06-26kn with wind-shift up to 70deg (and ugly rain) and that went on - either 3-4 squalls in a row or sort of a front with heavy rain - we reefed and slowed down, and did not unreef, because the next system was chasing us. After 2-3 hours it calmed down -to 5 kn wind-speed => we motored 2/3 of the way... Not the best day ever ...
Highlights were 2 pods of dolphins - which resulted in no fish caught, but nice memories :-)

We nearly passed Hanatefau on the way - we expected a visible village, but there are only ca. 20 houses tugged into the green ...
Nice! Steep mountains, calm, clear water, not much wind, no gusts. Currently we have wind from the west ! 5-10kn, while the clouds above the mountains are going east!!!


Tuesday, 04.12.2018, 08.00 "TAHUATA-Hanatefau" - (Christian)
We learned, yesterday we just entered a warm front, which is now on the way to Tuamotus - bad luck and bad preparation- we should have tried harder to get the weather-report, BUT only on one chart it might have been shown only 24h before it passed => there are no charts we know of which are going further west as a warning-sector ...


Wednesday, 05.12.2018, 08.00 "TAHUATA-Hanatefau" - (Christian)
Much more wind, but nothing in gusts over 15kn, mostly onshore, our anchor is buried deep in the sand - great UW-visibility!

Do we stay here or go to Hanemoneoa, today? Tomorrow to Atuona??? or next week? :-)

A couple of days ago I listened to the Polynesian-Magellan-Net and if I understood it right Mike's wife Alana fell overboard in Fakarava and drowned.
We do not know them, but are deeply shocked - this is still working in my head ...


Thursday, 06.12.2018, 15.00 "TAHUATA-Hanatefau" - (Christian)
Only onshore-winds! We are on a lee-shore despite the clouds are pushed over the mountains towards west, we have wind from the west, ugly gusts up to 30kn.
We re-anchored, because some stones interfered with the chain we went only 33m more towards NW and now have 70m out.

We went to the village - not much going on there - we actually only saw a few people at noon.


Saturday, 08.12.2018, 04.30 "Anchor-alarm" - (Christian)
Dawn is showing the first signs over the mountain.
The rooster ashore is signalling daylight since some hours (I do not know what he is thinking ...).

An hour ago our Garmin hand-held GPS beeped ANCHOR-ALARM - we had gust up to 30kn, but this is not unusual here (as well onshore winds (!) against the prevailing wind-direction outside the bay).

Our plotted track showed no significant movement to the aft - we monitored it on the plotter as well Laptop, checked the anchor-cable which twice moved strange in a gust and checked the position for more than an hour again => 99,9% false alarm => but still the uncertainty of maybe 0,1% does not let us sleep very good.
Logically it can not be that we have dragged:
The anchor-alarm was set to 90m.
70m chain in the water 12m deep
in good holding sand,
with a good and big anchor.
that was forced in with full reverse
and after that checked via snorkelling to see it is buried so deep that I only saw a little bit of the Bügel.

I am pretty sure the position where I set the alarm and the position of the anchor are not 100% the same anyway, but with 20m reserve (-7m for where the GPS signal is received related to where I set the alarm) => I think the GPS had sort of a hick-up and showed a wrong location for a second => I might add 25-30m next time ...

This is going on my nerves (I am not cool enough to be unconcerned) and ruined my beauty-sleep! (Dagmar is back to bed since an hour now. :-)

In the last 7 years we dragged 3 times:
Martinique- (2012) because I dared to anchor in a known bad spot,
Guadeloupe-Pigeon (2012) because my bad anchoring on a very weird ground,
Panama-La Playita (2015) in an exceptional vicious NW-Squall that came 180 degrees against the direction the anchor was dug in (that is my opinion the only situation where dragging is not possible to avoid if only using one anchor). The anchor did set itself again which is not at all guaranteed.
I roughly estimate that we did spend around 4years plus at anchor in our time on the boat... => that's 3 out of roundabout 1500 days (still too high! At least 2 could have been avoided).

06:00 Now it is raining! The bimini leaks !
It is supposed to be the dry season now!

So what to do next:
Snorkel to check the anchor once more.
Get the hand-held in the dingy and set the anchor-alarm again, when over the anchor and this time add 30 as a reserve for a bad GPS-Signal (we have a huge mountain-wall towards windward).


Saturday, 08.12.2018, 20:00 "Anchor-alarm 2" - (Christian)
I snorkeled the anchor - it did not move a cm. 15-20m Chain are lying on the ground without having moved at all.

We went to the village and had the joy to attend a church service => UNBELIEVEABLE - Most awesome - they sing like in heaven - extremely good!

We met Tahina and were invited to her house tomorrow => we postpone our departure!


Sunday, 09.12.2018, 20:00 "Hapatoni" - (Christian)
We had one of the few nights without the heavy gusts - nice!

After a great moring with first church and then with Tahina (the princess). We are back on the boat, preparing our trip tomorrow - Everyone said: Leave with the first light!
So the plan is: 04:00 wake-up-call and anchor-up at 4:40, before sunrise.


Monday, 10.12.2018, 20:00 "Atuona" - (Christian)
We arrived, found a spot to anchor inside the breakwater (crowded) and I was able too get a fresh baguette with brie => Vie la France!
We checked-in on tuesday - unbelievable easy compared to Central- and S-America.

Now we have officially arrived in French-Polynesia!







----------------------------------------------------
What gave up or was destroyed or has to be taken care of:
Mast-basis squeaks
Steering-colum makes noises as the base.
Genoa - Lower side has to be restitched
STB-fastener of the Sprayhood-arch broke
Lazybagline parted
Some lines show signs of wear


What did we do all the time?
Reading, thinking, enjoying the (fast!) sundown (better than the sunrise), looking at stars, suffering from waves and checking the boat's course, sails and status.
I wanted to do more work on the computer, but it was a bit bouncy for doing this - everything takes much longer than normal ...


What did we eat?
We had been often 4 to 6 or 8 weeks in the Las Perlas, so we are used to checking the last usable produce - which means the last days of such a period it is often Pasta with different sauces (which we still like).
Dagmar cooked all the time (european, asian, indian), made sometimes fresh bread and Madeleines - without her I would have lost some spare kilos ... :-)

How long did the fresh fruits last?
16.11 the last melon went ...

How long did the fresh vegetables last?
After 6 weeks there are still left (and ok) some pumpkin, carrots, potatoes and onions.

How long did the fresh meat last?
Chicken frozen directly under the cooling-plate: 4 weeks, sausages 6 weeks




----------------------------------------------------
So how may we go on?
For the year 2019 to take into account:
Nov to April => Cyclone-season S-Pacific
October to April => Dry-season
Feb to April => Trades E
May to Nov => Trades E-SE
July / August => strong tradewinds
July => Heiva and other festivals in FP
Dec to Jan => Trades E-NE
2019 will most likely be an El-Nino year!!! => Tradewinds maybe reversed and/or maybe lighter? More cyclones, SPCZ going more towards the equator => more thunderstorms/lightnings?


The IDEA for the next months (2019ff) (NO PLAN!)
until end of January => Marquesas
end of January => haul-out
Feb-March => in Germany (and first a bit US? Ireland?)
April => (a bit US first?) return to FP
mid April => sail to Tuamotus - Makemo 480nm (ca. 4-5 days)
until mid/end of June => Makemo-Fakarava (120nm) and other little atolls e.g. Anaa (80nm)
end of June => Tahiti (230nm)
July => Tahiti (maybe reserve a slip in the city-harbour?) and Moorea (20nm)
August => Raiatea/Tahaa
September => Bora-Bora
October => Raiatea
November => Raiatea - Haul-Out
November => in Germany (and first a bit AU/NZ? Asia?)
April 2020 => return and then go west (until Fiji?)
October/November => sell the boat?




---------------------------------------------------------------------

Country and People
Marquesas (Wikipedia english)
Marquesas Wikipedia.de


----------------------------------------------------

Infrastructure


----------------------------------------------------